Self Adhesive Switchable Pdlc Film
Self Adhesive Switchable Pdlc Film
MODU

CHINA

IN 7 DAYS

10000 ROLL PER MONTH
Smart switchable film is a product that is capable of adjusting light transmission between transparent and opaque using AC power. Due to moisture sensitivity, earlier versions of the film were used only to make smart glass by lamination on glass. With continual improvement in moisture resistance, the new (3rd) generation of the film can be directly installed on existing windows with special glue or self-adhesive. It combines many functions, such as light adjustment, UV and infrared blocking, advertising and security.
FEATURE
*Environment Friendly and Energy saving;
*Superior Light Transmittanc;
*Blocks 99% of UVB Rays to preserve home furnishings;
*Block unwanted views and viewers;
*Easy to install, operate and maintain;
*Customized size available.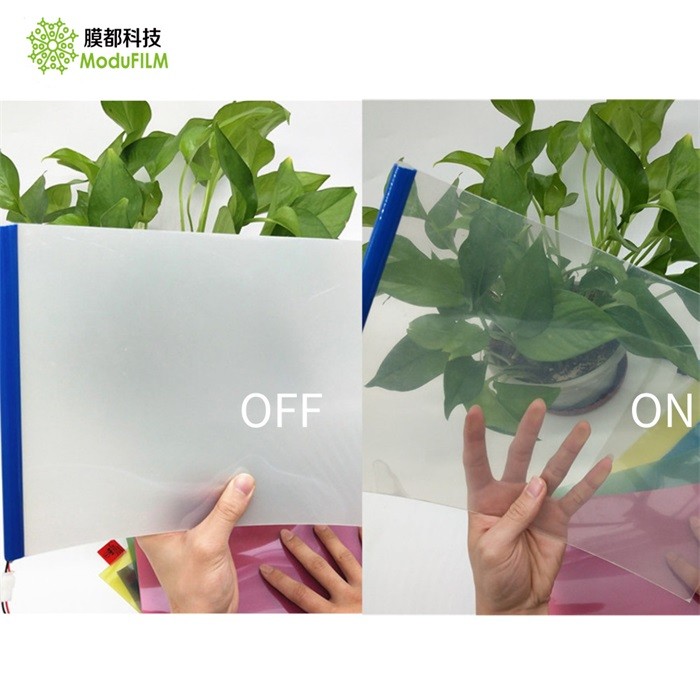 1) Product Description
Privacy Smart Film,is a product tht is capable of adjusting light transmission between transparency and opaque while using AC power.It replaces the original glass film.It can be used in office partition wall glass, conference room glass , living room , hotels , hospital etc.Smart film have the function of protect the glass, sound insulation,heat insulation,privacy protection.
2)PDLC FILM STRUCTURE & MECHANISM
The secret of its characteristic is the polymer dispersed liquid crystal technology. Liquid crystals molecules in the film are oriented randomly oriented.
When the power is OFF, the crystals scatter the light and the product appears shaded.
When an electronic current is applied and the product is ON, the liquid crystal molecules align and the inside light can penetrate through it. Thus, the product appears transparent.
3) Product Parameter
Optical Properties

Parallel Light Transmission

ON

more than 75%

OFF

less than 5%

Visible Light Transmission

ON

more than 80%

OFF

more than 60%

Visual Angle

ON

150 degree

UV Blocking

On/ off

more than 99%

Electrical Properties

Operating Voltage

On

60 volts A.C.

Frequency

On

50~60HZ

Current

On

2 mA/sq mt

Power Consumption

On

10 W/sq mt

Switching Time

ON to OFF

Tr.2ms

OFF to ON

Td.10ms

Specification

Thickness

0.38mm

Max Size

1500mmx3000mm

Glass Color:

white, grey, light grey, black

Other index

Working Temperature

–10~60 °C

Preserve Temperature

–20~75 °C

Life time

less than 50000 hr
4) Product Structure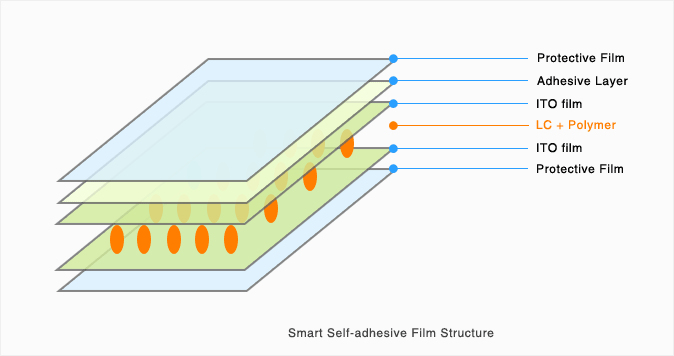 5. Working Principle
· Without power the liquid crystal molecules (microdroplets) are disordered. This prevents light from penetrating the film, rendering it opaque.
· When power is applied to the smart film the liquid crystal molecules are forced into alignment, rendering it transparent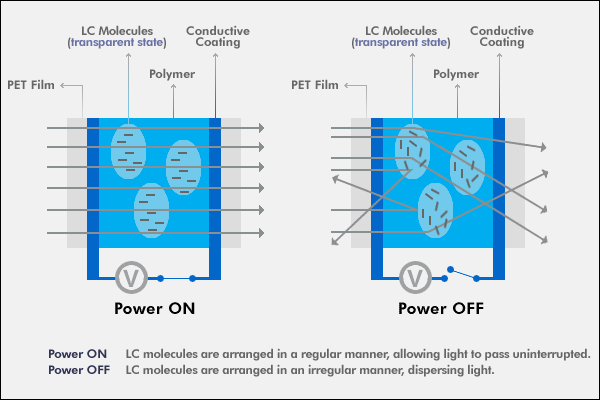 6. Product Installation
1) Tools Prepared 2) Glass Cleaned 3) Film Pasted 4) Film Scraped 5) Power OFF 6)Power On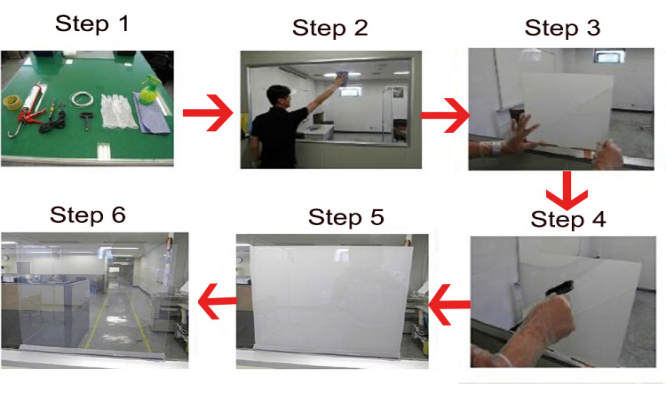 7) Product Application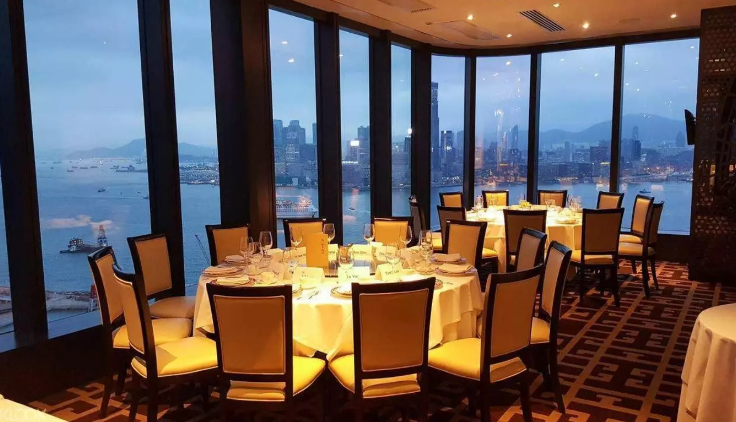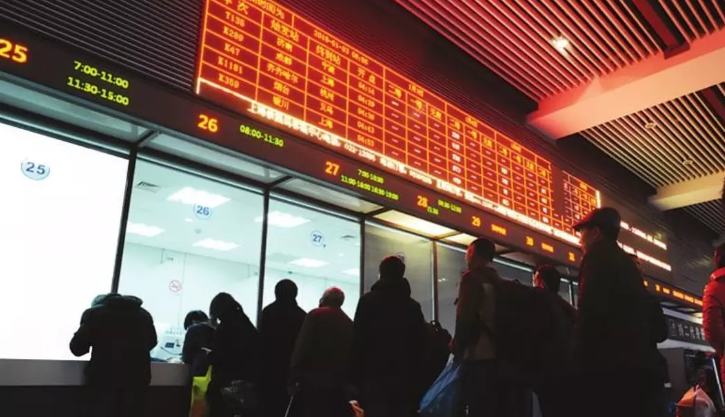 8) Shipping Terms:
* The shipping time is about 5-7 WORK DAYS by FedEx or UPS etc. air express, we don't guarantee delivery on all international shipments, due to every country may have different time schedule on custom clearing which may take longer / shorter time to inspect your products.
* The goods price and shipping cost don't include remote area fee and import taxes or any other taxes. We'll reserve the right.
* For remote area fee, in case of your delivery address is FedEx or UPS etc. remote area. And the buyer is responsible for tax (if need).
* Usually we write lower value to help you avoid or reduce the tax. If you need full value on the shipping bill or invoice, please let us know when you place order.
* We will send you a tracking number after we sent the parcel for you.